Gewinner IW Tag 2
Mein Sohn hat heut morgen wieder Glücksritter gespielt und einen Zettel gezogen. Inzwischen findet er Gefallen daran und freut sich schon im Voraus auf's Zettel ziehen 😉
And the winner is….
KATI mit Kommentar Nr. 8: "Als hättest du es geahnt, die tolle Schachtel am Supersonnentag zu posten, toll. Dein Candy ist verlinkt. Liebe Grüße, Kati"
Herzlichen Glückwunsch! 🙂
Kati, schick mir doch bitte eine Email (teilzeitbastelfee at gmail.com)  mit Deiner Adresse!
Hier habt IHR eine Chance zu gewinnen!
Hello everybody :)
Ich bin Christine aus Esslingen und bin 38 Jahre jung.
Neben der Teilzeit-Bastelfee bin ich Vollzeit-Mama und arbeite im "richtigen Leben" Office Manager in einer Software-Firma. Hier nun das Ergebnis meines kreatives Ausgleichs…
Viel Spass beim Stöbern und Ideen finden :D
In{k}spire_me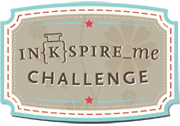 Was war Wann