In{k}spire_me Sketch Challenge #303
Willkommen zu einer neuen Sketch-Challenge bei In{k}spire_me, die diese Woche von Marion stammt – und der Sketch ist große Klasse 🙂
Welcome to a new sketch challenge at In{k}spire_me which was made up by Marion this week – and the sketch is brilliant 🙂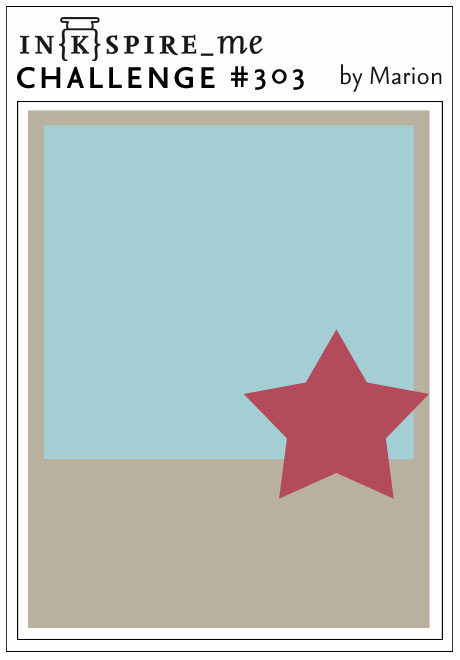 Da meine Mutter leider eine Trauerkarte benötigte, fand ich diesen Sketch dafür echt gut. Bei Pinterest habe ich eine ähnliche Karte gefunden und diese entsprechend umgesetzt – klassisch in grau/schwarz und dann in Brauntönen.
Sadly, my mother needed a condolence card, the sketch is fitting in my opinion. On Pinterest I found a similar card and implemented it correspondingly – a classic version in grey/black and one in brown shades.
Für den Hintergrund habe ich wieder die Schwämmchen benutzt. Dafür habe ich aus Kopierpapier eine Schablone kreiert damit nur ein Quadrat entsteht. Darauf wurde dann der Baum gestempelt und der Spruch dazugefügt.
For the background I used the sponges once again. Therefore, I created a stencil so that just a square is formed. The tree was stamped on it and the sentiment was added.
Meine Mutter hat sich letztlich für die braune Karte entschieden, beim Designteam kam die Schwarze besser an. Und was wird bei Euch aus diesem Sketch?
In the end, my mother decided on the brown card, the design team liked the black one more. But what will you do with this sketch?
Stampin' Up! Produkte:  Farbkarton Schwarz, Anthrazit, Flüsterweiß, Espresso, Taupe, Vanille Pur – Stempelset Trost in der Trauer (vergriffen), Lovely as a Tree – Stempelfarbe Schiefergrau, Anthrazitgrau, Taupe, Espresso – Stanze kleines Oval, Wellenoval (vergriffen)