Archiv | Geburtstag
RSS für diesen Bereich
Willkommen zu einer neuen Woche bei IN{K}SPIRE_me, mit unserer Geburtstags-Challenge 🙂 Schon wieder sind wir ein Jahr älter und finden es fantastisch, dass ihr immer noch dabei seid!
Diese Challenge läuft auch zwei Wochen und ihr dürft im Archiv jede beliebige Farbkombi und/oder Sketch auswählen und umsetzen. Das wird ein Fest 😉
Welcome to a new week at IN{K}SPIRE_me with our Birthday Challenge 🙂 A year older and we are excited that you are still here with us!
This Challenge will be running for two weeks. We offer you to choose from all our past challenges. Pick a color combination or a sketch or both – have a party yourself 😉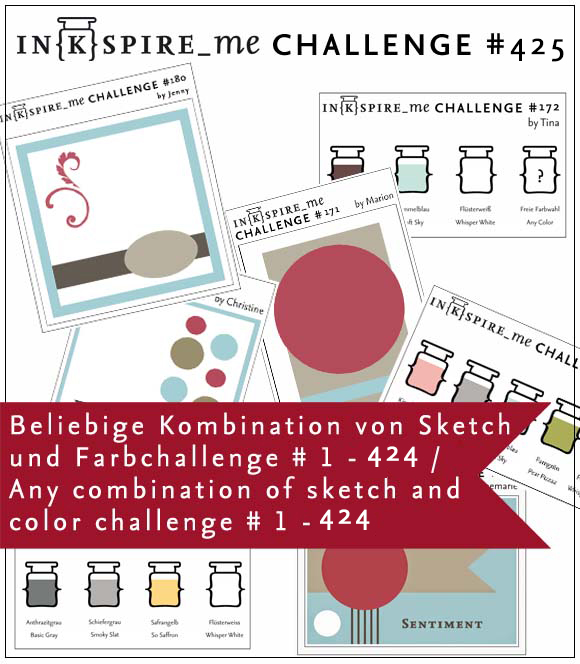 Da ich mich oft nicht entscheiden kann, befrage ich immer random.org und nehme dann, was vorgeschlagen wird. In diesem Fall war das diese wundervolle Farb-Sketch-Kombi:
As I cannot decide which challenge I want to use I use random.org and take whatever it will suggest. This time, it was the following wonderful color-sketch-combo:
Zu dieser besonderen Challenge wollte ich ebenfalls was Besonderes kreieren. Daraus ist dann diese Geburtstagskarte geworden 🙂
For this special challenge I wanted to created something special as well. So, here is my birthday card:
Dazu wurden folgende Techniken angewandt: Ich habe den Kreis mit einem Schmierpapier abgedeckt und die Blumen mit Versamark gestempelt, anschließend weiß embosst. Der Kreis blieb weiterhin abgedeckt, mit den Schwämmchen habe ich Aquamarin und Flamingorot aufgetragen, Jade findet ihr als Layer und als Akzente außen im Flamingorot. Dann habe ich den Kreis auf- und negativ (also außen rum mit dem Gegenstück) abgedeckt und in Merlotrot den sehr alten aber wunderschönen Glückwunsch gestempelt. Fertig 😀
I used the following techniques: I covered the circle with scrap paper and stamped the flowers with Versamark, then embossed with white embossing powder. The circle remained covered. With the sponges, I applied Pool Party and Flirty Flamingo. Coastal Cabana can be found as a layer and as accents outside in Flirty Flamingo. Then I uncovered the circle but covered the outside of the circle with the counterpart. I stamped the very old but beautiful sentiment in Merry Merlot. Done 😀
Leider müssen wir uns heute auch von Tina verabschieden, die sich leider dazu entschieden hat unser Design-Team zu verlassen 😦 Sie wird uns dort wirklich fehlen!
Unfortunately, we need to say goodbye to Tina as she decided to leave our Design Team 😦 She really will be missed!
Ich freue mich sehr auf Eure Umsetzungen zur Challenge 🙂
I am excited to see your creations to this challenge 🙂